De La Warr Pavilion, Bexhill-on-Sea 6 October 2018 – 20 January 2019, and Camden Arts Centre, 12 April – 23 June 2019
I discovered this exhibition quite late in its run at Bexhill so only got to see it this week. I have to say it was one of the best days out I've had for as long as I remember.
Dr Grace Pailthorpe (1883–1971) was a surgeon at the Front during the  First Worls War and subsequently became interested in the psychoanalysis of young offenders and how art allowed them to express their unconscious characters while working at Birmingham [UK]  Prison,
In 1935, 29 year-old young poet/artist Reuben Mednikoff (1906–1972) met the 52 year-old Pailthorpe at a London party and so began the working relationship in which she psychoanalysed him and through painting they both explored their stories, got involved in the 1936 London International Surrealist Exhibition alongside Duchamp. Kiee, Miro, Ernst and Magritte and many more. By the early 1940s, they found themselves expelled from the British Surrealist Group because they refused to go along with the alliance with the Communist Party, believing it better to understand and modify one's own psyche and behaviour before trying to change the world.
Consequently they came to call their own artistic niche, Psychorealism.
Most of their work looks like Surrealism, much of it being a fairly naive version of Dali's drawing style, while some of their pen and ink work looks as it probably influenced the work of Gerald Scarfe and Ronald Searle. Many paintings ate annotated on the reverse of the paintings and relate to the difficult relationships both painters struggled with in their respective families - strict father in the case of Pailthorpe who was brought up in a Plymouth Brethren family and Mendikoff's feelings of jealousy and abandonment when his mother had another baby. The pictures are explicit as is the descriptive language on the reverse. Pailthorpe modified some of this when she wrote professional papers and delivered speeches to learned bodies, but its forthrightness makes one aware that Gilbert and George were not necessarily exploring new territory other than using actual faeces in their work rather than representing it with paint.
The exhibition is so well curated although in a quite traditional format, that anyone walking in on spec would be able to understand it and empathise even at the lowest level of enjoying the humour and crudity depicted in so many of the works.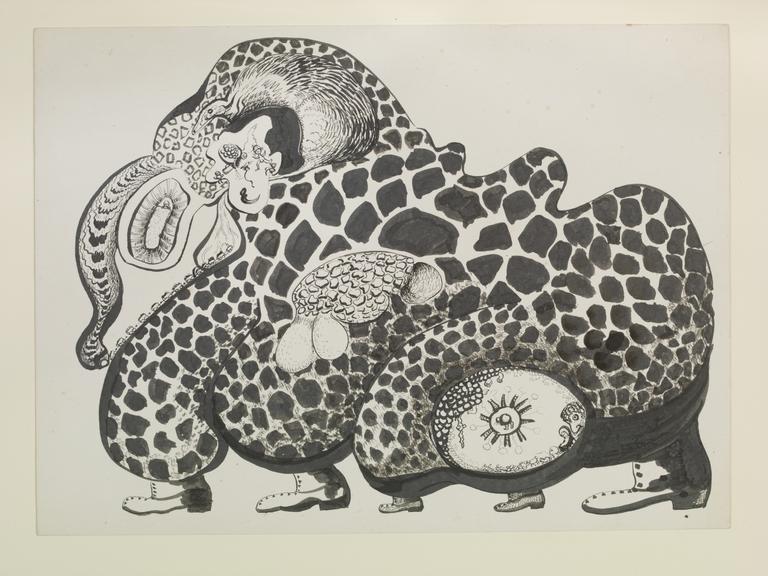 The sad thing about this exhibition is that there is no catalogue to accompany it. The background stories are so important to so much of the work, but there is next-to no literature widely available on this very important branch of surrealism and its clearly pivota lrole in the development of 20th-century art.
If you're in Sussex do try to get to Bexhill while the show is still on - you;ve got a fortnight from the date of writing. If you're anywhere else, make a note of the Camden dates and get along at the earliest opportunity.