I first heard of Laurie Anderson when Noel Edmunds introduced 'O Superman' to the UK. I learnt more after I was lucky enough to win the box set of LPs of 'United States I-IV' in a Radio Brighton competition back in the 80s. I bought the excellent 'Big Science' LP which was a mini-version of US 1-4, and about 4 following Albums which never quite matched Big science and it's massive predecessor.
The first time I saw her perform, it was 'Moby Dick' ay tjhe Barbican about 2000 I think. It was a creditable performance but somehow quite unexciting....I admit I was somewhat disappointed.
Last summer I saw her a second time when she appeared in Brighton Festival 2015 - again I found her story-telling disappointing, feeling it was lightweight,terribly disjointed, unentertaining and,frankly, lazy. I put this down to having not properly recovered from her quite recent loss of husband Lou Reed.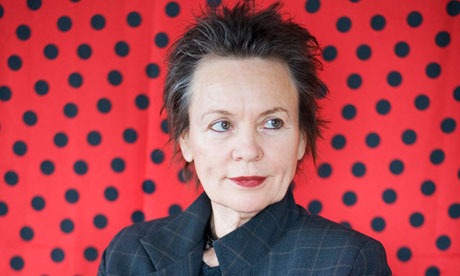 Last night I went to this year's Brighton Festival very excellent presentation 'Song Conversation' in which Laurie led a small band which also included Nik Bartsch on prepared keyboards and piano and Eivind Aarset on guitars and electronics. Besides playing numbers of their own [individual and collective compositions] they also played pieces by a number of other artists and composers including Lou Reed, Arvo Part and Leonard Cohen. The show hung together brilliantly, one tune blending into the next seamlessly, despite being of completely different mood or instrumental combination.... As far as I was concerned Laurie Anderson had reclaimed her rightful position in my pantheon of superstars.
The, this evening. I attended a solo show entitled 'Slideshow' and on arrival the stage set-up including a screen and an armchair reminded me of last year's second-rate exhibition.
After an opening piece on her ever present violin [ now used in conjunction with a variety of sound modification devices, rather than her former practice of building separate instruments for each different effect she wished to create [harking back to US1-4 days] she launched into story-telling mode by telling us how she'd thought of doing stand-up comedy rather than musical work because she'd have to carry much less equipment around from venue to venue, but she only knew 2 jokes - and she told us both during the first half-hour of the show.
However I soon found my misgivings were unfounded as her tales of working with NASA, prisoners around the world and many other encounters in her fascinating life and exploits trying to bring some of her utterly mad concepts to fruition. her delivery was smooth and punchy and although there was one small technological glitch, she dealt with it both professionally and without fuss of any kind.
Oh... and by the way she was very funny indeed - there's a second career in stand-up waiting for her any time she likes!