OIL GEEV EET FOIV
Krzyszof PENDERECKI: Viola Concerto, Cello Concerto No.2
Warsaw Philharmonic Orchestra, Antoni Wit
Grigori Zhislin, Viola  Tatjana Vassiljeva, Cello    NAXOS 8.572211
 http://www.naxos.com/catalogue/item.asp?item_code=8.572211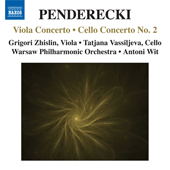 When I come into contact with a recording of a Penderecki piece I'm not familiar with, I usually stand in awe and put it to one side before I get to give it a listen. This is because I still think of his work as being somewhat inaccessible and difficult. In this case I have lingered even longer because I had it in the back of my mind that if I didn't make a decent fist of reviewing this CD, I'd probably give up reviewing as a bad job for good [if you see what I mean!]
So encouraged by a recent remark by one Mr Daniel Marcus Clark, musician, poet/songwriter and storyteller extraordinaire that he'd missed reading my reviews as they'd given him some enjoyment in the past, I decided to wait for a day when I had satisfied myself that I could write something and be at least half pleased with it and then get out the Penderecki and give it a shot. That day has come......
                                  ...and do you know what? I'm not finding listening to the disc and finding something intelligent [at least I think so] to say too difficult at all. I have taken the easy route. Instead of listening from the start which means tackling the Viola Concerto first, I've kicked off with the Cello Concerto as this is my favourite classical instrument [possibly excluding timpani and gongs] and number the Elgar and Dvorak cello concertos among my favourite works.
The work is almost easy listening by Penderecki standards. Yes it resounds with all sorts of squeaks and honks, and vast sudden differences in volume and intensity, as one might reasonably expect from this composer but the flow of the piece seems to fall into something of an easily identifiable 'narrative' which leaves one feeling empathetic with and uplifted by the writer's intentions even before reading the programme notes to see if it's actually about anything in particular, which I will leave you to find out for yourself.
The Viola Concerto starts off with an altogether darker, I might say even morose, vibe about it. We're in far more familiar Penderecki country here. But even here there is excitement and storytelling - an almost filmic approach to composition, I feel. i'd love to see the short movie of this one - even in a purely abstract form - you know - one of those 50/60s jumpy black and white arthouse things with all squiggles and dots interspersed with underexposed flashes of pervy men in raincoats and trilby hats peering round doors into darkened rooms...
Getting back to some sort of reality - I think this is just about the most instantly accessible Album by Penderecki I've come across - and would recommend it on the strength of this alone - it would make a gentle introduction to a very complex and sometimes downright difficult composer who is well worth the effort getting to know. Further than that, the sound quality is top notch and the performance is great too. If I were the star-awarding type, I'd have no hesitation in giving this one five.